09 December 2016, the Acropolis Museum welcomes Sabine Weyer from Luxembourg. At 20.00 the soloist pianist will treat visitors to a special, evening piano recital, dedicated to famous composers including Schubert, Liszt, Beethoven, Scriabin and Debussy.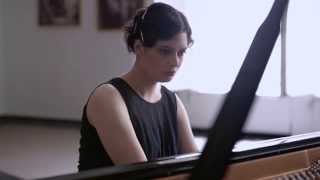 Sabine Weyer is a young and super talented pianist. In February 2015, Sabine won the first prize at the 'Grand Prize Virtuoso' competition, and performed in the Royal Albert Hall in London on March 13th.
On Friday 90 December, the Museum exhibition areas will continue to remain open until 10 p.m. and the restaurant until 12 midnight with special menus based on classical and traditional recipes, giving particular emphasis on local products from regional Greece.
On the same evening, famous jazz music ensembles will commence their Christmas jazz nights at the Aacropolis Museum restaurant.