A special performance by Sonia Theodoridou, conducted by Theodoros Orphanidis, will take place this Sunday 08 June at 13:00 in the courtyard of an iconic church in London and is dedicated to the return of the fragmented Parthenon sculptures.
The late Melina Mercouri began a great campaign, which captured the interest of many. Amongst the interested in the early 80's was the founder of the British Committee for the Reunification of the Parthenon Marbles, British architect James Cubitt. He met with Melina Mercouri and Jules Dassin to suggest the creation of the BCRPM but sadly died after the committee was set up in 1982. His wife Eleni Cubitt, for decades continued to work tirelessly guided by some distinguished chairmen to communicate, educate and explain why a fragemened work of art deserved so much better.
In June 2009 this campaigning task was made effortless by the opening of the Acropolis Museum in Athens. A dream for many campaigners and although many had passed away before this significant date including the late Jules Dassin (who dies just a year before), for many more it was a great time to celebrate.
The Melina Mercouri Foundation and many campaigners around the globe continue to promote the cause and are increasingly joined by many more sports personalities, scientists, actors and actresses, artists, writers, journalists and scholars.
To a vast global community the notion of returning the Parthenon Marbles, a peerless work of art - in the superlative museum- the Acropolis Museum, makes complete, culture sense.
All supporters and campaigners will continue to make their voices heard, until the day that these beautiful, fragmented sculptures, can be reunited in Athens.
In order to raise awareness of the issue, renowned Greek soprano Sonia Theodoridou and her husband, distinguished conductor Theodoros Orphanidis, will present a unique musical performance on Pentecost, Sunday June 8th. Sonia Theodoridou will be singing arias written and composed by Pandelis Pavlides with a small orchestra of 3 musicians and 5 actors, under the direction of Elda Panopoulou.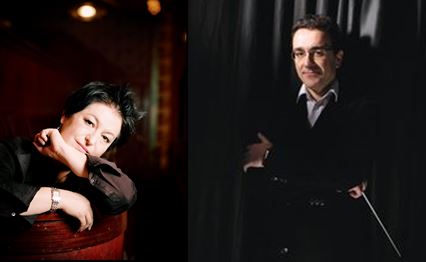 This event will take place in the courtyard of Saint Sophia Greek Orthodox Cathedral in London (Moscow Road, Bayswater, London W2 4LQ) immediately after the church service at 13.00 p.m. on Sunday 8 June 2014.
Although there is a huge amount of support for the return of the sculptures to Athens amongst the majority of British people, this specific performance aims to speak to the hearts of people who know that these kinds of cultural injustices can be put right.... and the sculptures deserve to be reunited.
Anyone and everyone is welcome to attend.