Details

Published on Tuesday, 09 January 2018 12:48
FRESH REFUTATIONS TO OLD OBJECTIONS
The location of the Parthenon Marbles and their acquisition has to be rethought in the light of a different world. If you know a great deal about this subject we hope that what we have written here will continue to engage you, and if you know nothing at all, that this will help you find greater understanding.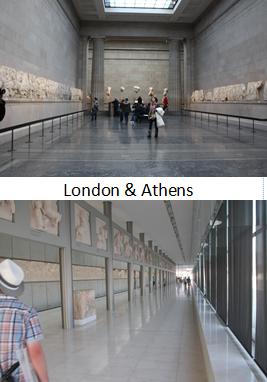 It is said if the British Museum ever agreed to return the Marbles to Athens, it would "open the floodgates", leading to the denuding of the world's encyclopaedic museums.
There is no hard evidence that museums would be denuded should the fragmented Parthenon marbles be returned to their other halves in Athens. For European and North American museums to suggest that they would be denuded is tantamount to admitting that part of their collections were dubiously acquired. They might not be wrong. Some items have already been returned and no great fuss has ensued.
In any event, the Parthenon marbles present a unique case in that the original building to which they belonged is still standing in plain sight. This makes the specific case for their return exceptional.
The great encyclopaedic or 'universal' museums in London, Paris, Berlin, New York - ex-colonialists to a man - are all subject to laws laid down in internationally agreed legal instruments such as the 1970 UNESCO Convention on the safeguarding of cultural property.
More on BCRPM's Chair Dame Janet Suzman's fresh refutations to old objections, here.
And a response, which continues to be relevant, made four years ago by our late Chairman, Eddie O'Hara too: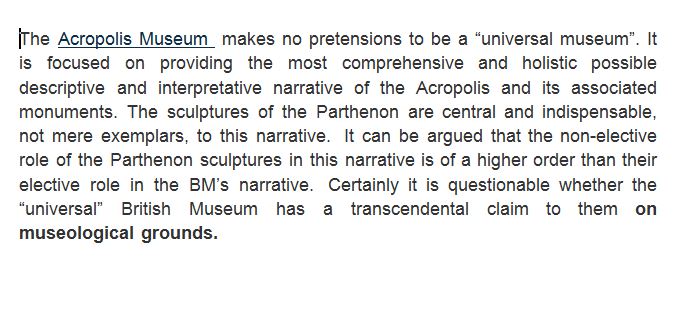 Details

Published on Saturday, 23 December 2017 08:50
SEASONAL BEST WISHES FOR CHRISTMAS & 2018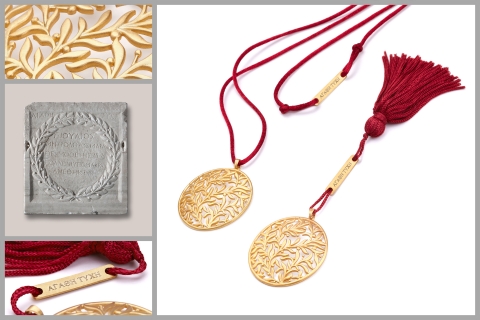 Image: The Acropolis Museum's good luck charm for 2018 is inspired by an exhibit of wreath presented on a marble slab displayed in the Gallery of the Slopes (Mid-1st century, ΕΜ 8124). The Archon and Head Overseer of Justice (the 'Thesmothetis') Mitrodoras from Marathon was presented with a wreath of myrtle by the City of Athens on retirement in recognition of his good service. He in turn dedicated a relief representing the wreath to the God of Justice 'Apollo under Makrais' that was worshipped in a cave under the 'long' rocks, west of the Acropolis.
Design: Kostas Dimopoulos
The Chair & Members of the British Committee for the Reunification of the Parthenon Marbles
Chair: Dame Janet Suzman, DEPUTY CHAIR: Professor Paul CartlEDge, Honorary President: Professor Anthony Snodgrass, Founder: Eleni Cubitt, MEMBERS: George Bizos, Christopher Stockdale, Professor Judith Herrin, Professor Oliver Taplin, Professor Edith Hall, Dr Peter ThonemanN, Professor Constantine Sandis, BeNJAMIN RAMM,Alexi Campbell, KEITH HUNTER, VICTORIA SOLOMONIDIS,Stuart o'hara, Christina Borg, phil reeve,Marlen Godwin Website: www.parthenonuk.com Facebook: The British Committee for the reunification of the Parthenon MarblesTwitter:@BCRPM Email: This email address is being protected from spambots. You need JavaScript enabled to view it.