Details

Published on Tuesday, 16 June 2015 16:35
20 June 2015 Acropolis Museum, Athens, Greece
Many of us  cannot help but relive the amazing time that was had by all when the superlative Acropolis Museum first opened it's doors in June 2009. There were those that criticised the new museum but the majority of visitors from all over the globe, were awe struck. The sheer scale and depth of the exhibitions, the great sense of elation, at all times with spectacular views to the Acropolis and the Parthenon were and continue to be treasured.
On occassions as special as Saturday 20 June, we will also remember those that aren't able to celebrate this superlative museum's 6th anniversary. In the case of BCRPM it will be the sad loss of Vice Chair, Christopher Price, who passed away in London in February. But just like Melina Mercouri, Jules Dassin, Robert Browning and Graham Binns, Christopher will be remember for his tireless campaigning to support the reunification of the fragmented Parthenon Marbles.
For those visiting Athens on the 20th June 2015, the Acropolis Museum will have the following events in store, including:
A new exhibition 'Samothrace. The mysteries of the great gods', which has been  organised in cooperation with the Ephorates of Rodopi and Evros and the expert on Samothracian antiquities, Mr. Dimitrios Matsas. This exhibition will be open to the public from 9 pm till midnight and it will  continue to be available for visitors  until 30 September 2015. On the following day after the official opening of this exhibition, Sunday 21 June  at 10 pm the Museum  has also scheduled a conference focusing on recent archaeological research in Samothrace.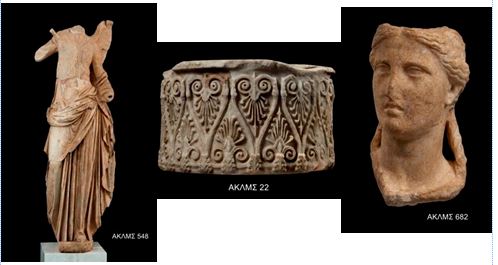 Images from the new exhibition 'Samothrace. The mysteries of the great gods', courtesy of the Acropolis Museum. This exhibition will run from 20 June until 30 September 2015
On the Sauturday 20 June, at 9 pm the Museum will also present a music concert in the entrance courtyard, to be performed by the Athens Municipality Philharmonic Orchestra and Chorus with music and songs from the interwar years, the cinema and Greek operetta.
Additional bonus for visitors on Saturday 20 June - the exhibition areas and the restaurant of the Acropolis Museum will remain open from 8 am until 12 midnight and admission to the Museum will be reduced (3 euros) for all.