Professor Katherine Schwab, was interviewed by one of Greece's newspaper websites, Greece Is, about her research on ancient Greece's most famous hairstyles, those of the Caryatids, the sculptures that stand in place of columns in the south porch of the Acropolis in Athens.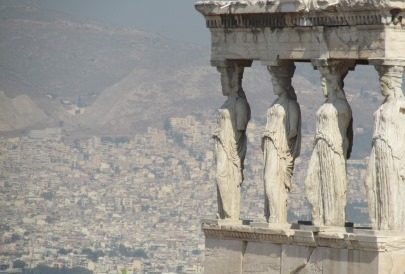 The Erechtheion or Erechtheum, Acropolis, Athens (Greece)
In the Greece-is.com article, Schwab, who is an art history professor and expert in Greek and Roman art and architecture, said she first noticed these intricate hairstyles about a decade ago while studying archival photographs taken at the Greek temple by the German photographer Gösta Hellner.
The marble sculptures, whose female figures where carved nearly 2,500 years ago, are remarkably well-preserved and their hairstyles provide a wealth of information about the role that hair had and continues to have in societies today.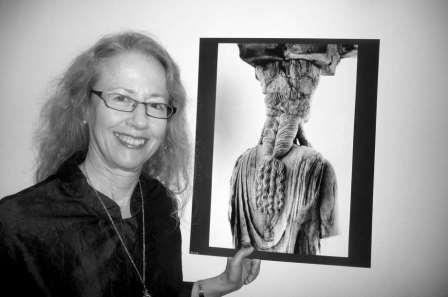 Professor Katherine Shwab
"Among the most remarkable things we discovered during this project is that hair has a great significance. Hair can symbolize rites of passage, personal identity, status, cultural identity and much more. Research on these ancient hairstyles can lead in many directions and result in a wealth of information about the role of hair then and now. The hairstyles worn by the ancient Caryatids, are unusual and seem to belong to an earlier tradition. This is probably why they would have been worn only for very special occasions. In part, these hairstyles linked these maidens to past traditions within Athenian society, forming a bridge across time and generations." Commented Professor Schwab.
As part of her research project at Fairfield University where she teaches, Schwab invited students to have their hair styled in the historic braids, which was captured in a video that documented the recreation of six individual hairstyles of the Caryatids.
Schwab's research also includes drawings of the Parthenon, where she devised a technique to show what remains of ancient sculptures in order to determine the original compositions. Copies of her drawings are part of the permanent installation in the Acropolis Museum's Parthenon Gallery.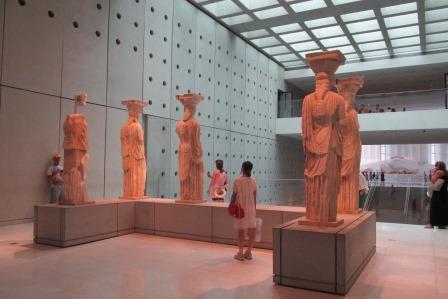 The Caryatids in the Acropolis Museum, Athens (Greece)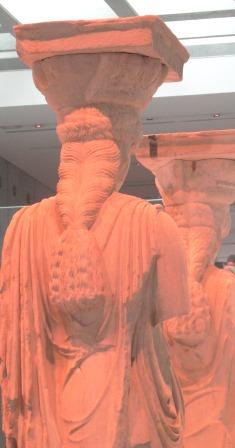 Fashionable fishtale braids, created by the ancients, continue to be recreated today for special occassions
Schwab's notes, and the originals were obtained for a travelling exhibit in the U.S. that began in 2014 in New York City. The exhibit toured many colleges and universities.
Professor Schwab will receive the 2017 Distinguished Faculty award at Fairfield University's annual dinner and awards event in NYC in March this year.
Professor Schwab continues to visit the Acropolis Museum every year.
"Grayscale scans of my metope drawings are part of the installation in the Parthenon Gallery and to have them included is a great privilege for which I am very thankful. You can see them on the frames holding the east and the north metopes. My hope is that the drawings bring attention to the metopes which were originally highly visible in antiquity. The scans of my drawings, combined with the original metopes, engage the museum visitor in considering the original composition and what has been lost. Thanks to Professor Pantermalis, President of the Acropolis Museum, it's possible for me to draw in the Parthenon Gallery for many hours each day during my research trips to Athens. Sometimes visitors come over and talk to me to ask what I'm working on and they become quite curious about the Parthenon's sculptural programme and the research conducted by archaeologists. They're often surprised that research on the Parthenon carries on and will do so for many more years to come." Concludes Professor Shwab