On Tuesday, 25th March 2014, to celebrate Greek National Independence Day, the Acropolis Museum opened free of charge from 9 am to 5 pm and offered visitors a host of exciting and informative presentations on the Parthenon.
As a unique world cultural heritage site, the Parthenon has fascinated visitors for countless centuries and for this year's celebrations of Greece's National Independence Day, provided a great opportunity for visitors to find out about the monument's decoration and architecture, its symbolism and rich history.
The presentations took place in Greek, English and French respectively with up to 30 visitors per thematic presentation.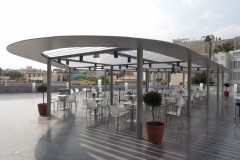 On the same day the restaurant on the second floor of the Museum also welcomed its visitors with ' Greek traditional dishes'.