2014 Archived News
Details

Created on Thursday, 09 October 2014 15:45
Written by Editor
Most of you have caught up with the news that Mrs Clooney, Amal Alamuddin, will be going to Greece with Geoffrey Robertson to discuss a way forward for the sculptures from the Parthenon.
We wish them every succes with their endeavours and reflect on the British Committee's founder, Mrs Eleni Cubitt's own words of wisdow
Imagine how wonderful it would be to create unity for the sculptures from the Parthenon and be able to celebrate this unity, whilst we still can.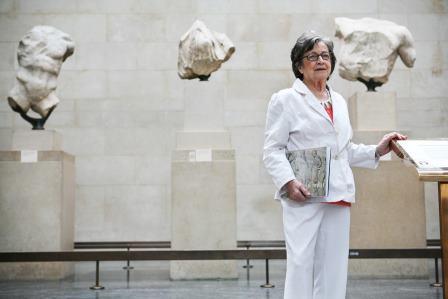 "We live in difficult times, facing many difficult issue, some perhaps so big, they may not be resolved for decades to come and certainly after my time. The continued fragmentation of the Parthenon marbles need not be an unresolved matter. The superlative new Acropolis Museum is the perfect place to reunite the surviving fragmented pieces of this peerless work of art."    
By shifting attention onto a more positive path and by concentrating on the benefits of reunification, the acclaimed British Museum and its well respected director, Neil MacGregor, would put right a very old wrong and in so doing, they could be justifiably proud. It would demonstrate strong ethical and moral leadership, proving to the global community that there is a way forward for the reunification of the Parthenon sculptures.
"Cultural heritage should refer to those objects which are of central significance and vital importance to the sense of identity and dignity of any human group and whose removal by force or deception or even ignorance could cause great sorrow, pain and outrage to people who believe such objects belong to them as an integral and essential part of their history and their heritage." Mrs Eleni Cubit, Founder for the British Committee for the Reunification of the Parthenon Marbles www.parthenonuk.com