2014 Archived News
Details

Created on Sunday, 10 August 2014 18:02
Written by Editor
Dr. Luca Lo Sicco, is Italian and has been living and working in the UK for over 15 years. He teaches at the University of Southampton and with Prof. David Boyd-Carrigan co-founded 'Greece Needs Love'. The aim has been to raise money for art students in Greece and organise an exhibition for Greek artists in London - a Greek Art Biennale. An equally important aim was to join the campaign to return the sculptures from the Parthenon currently housed in the British Museum, back to Greece and the Acropolis Museum.
On 01 July this year, Luca began his cycle run from Bloomsbury, London outside the entrance of the British Mueum.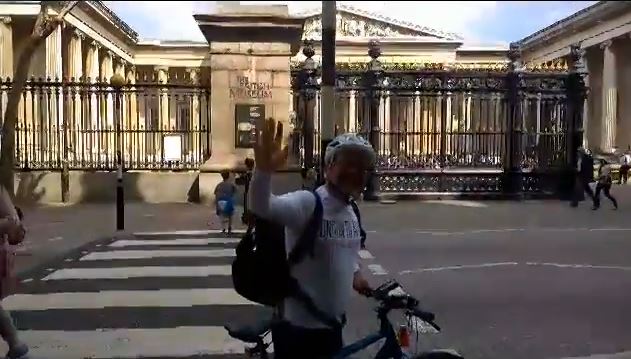 He was suffering with a summer cold and could barely speak but set off and 35 days and 8 hours later, he arrived in sunny Greece. He travelled through France and Italy crossing by ferry from Italy to Patras and cycling from the west Peloponnese to Athens. Difficult moments were plentiful but what will be a lasting memory for Luca, is the help and support he received from people along the way. All those that asked him what he was doing, were quick to say they too supported the reunification of these sculptures.
Generosity, fairness and respect are values that shape Luca's life, and he firmly believes that the best place to view the sculptures is in the Acropolis Museum. "The return of the marbles to Athens is a historic and moral obligation of us all" concludes Luca.
Deputy Culture and Sports Minister Angela Gerekou, congratulated Luca and presented him with a figurine replica of a dove from the Hellenistic period.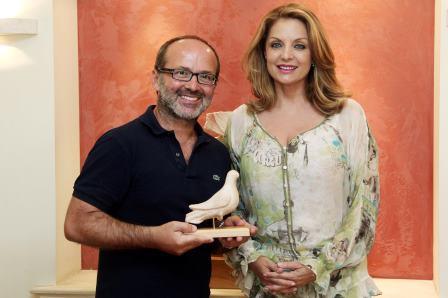 Luca had also decided, prior to starting his journey, that he would donate his bicycle to the Acropolis Museum. In Athens he met Professor Pandermalis, President the Acropolis Museum.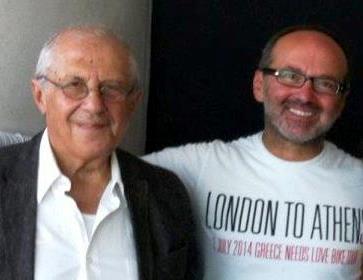 There is no doubt as we followed Luca's progress with his facebook and twitter posts that his infectiuous smile was catching all the way into Athens!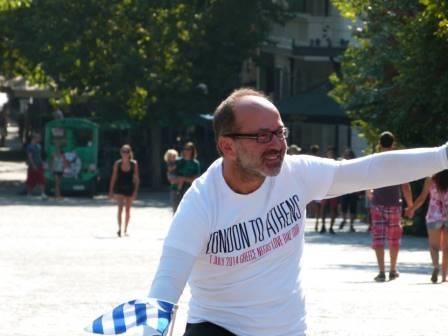 The campaign for the reunification of the Parthenon Marbles love affair with cycling began nearly a decade ago with Dr Christopher Stockdale MBE, a General Practioner from the Midlands and member of the British Committee. After he retired in 2003, Chris cycled in spring 2005 from London to Athens to campaign for the reunification of the marbles - five years before the Acropolis Museum was opened.