Details

Created on Monday, 23 November 2009 21:03
Mary Phillips, an American graduate with a degree in classical languages from the University of Pittsburgh wrote to the British Committee for the Reunification of the Parthenon Marbles (BCRPM) expressing her gratitude for their work. She also added that she was a supporter of the cause and outlined her plans to travel to London to make her stand.
On Sunday, November 22nd, from 11 am to 1 pm, Mary Phillips made her stand at the British Museum dressed as a caryatid. Despite the heavy rain downpour, Mary became the first attraction for Sunday visitors as she stood inside the grounds of the British Museum. Many took photos of her; others waved and gave her thumbs up as they ran into the Museum and out of the rain. This was Mary's first visit to London and it became a memorable one.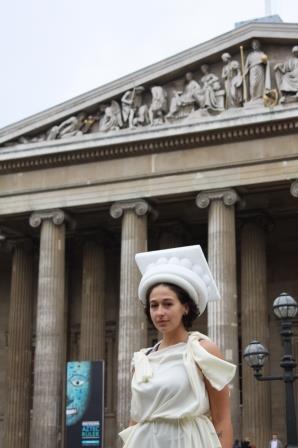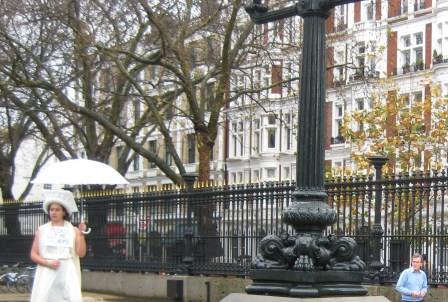 Neil MacGregor, director of the British Museum, stopped by briefly to have a look at Mary's peaceful protest and declared it 'an elegant gesture'. At the end of the day, English student and Plinthian, Sofka Smales joined Mary for a photograph.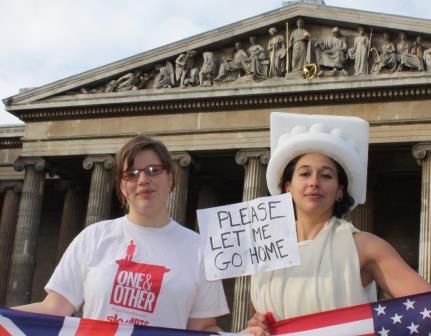 Mary Phillips will be travelling to Athens on Tuesday 24 November 2009. During her five day stay in Greece's capital she will be revisiting the new Acropolis Museum (www.theacropolismuseum.com).
Mary strongly feels that the 98% of the surviving Parthenon Sculptures currently split between Athens and London, deserve to be reunited in Athens. She commented "the return of the Marbles would be a British cultural gesture of singular poignancy."
Notes to editors:
1.On 12 September 2009 the Fourth Plinth in the north west of Trafalgar Square, home to Antony Gormley's Project "One & Other", was occupied by Sofka Smales.
Nineteen year old Sofka chose to promote the return of the Parthenon Marbles to their birth place. "I feel really passionate about this", explained Sofka, a student of Criticism, Communication and Curation at London's Central St. Martins College. "I have always felt that the Parthenon Marbles should rightly be returned to their country of origin. Especially now, that a first class museum has been built to house them."